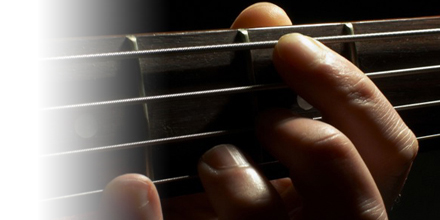 Guitar Lessons Sutton Coldfield
All Styles – Rock, Blues, Jazz, Classical…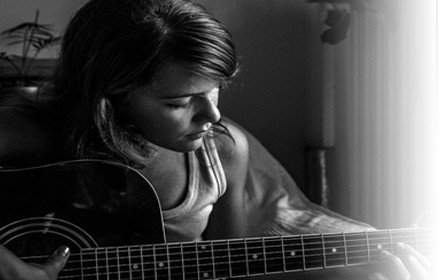 Take the First Step to Learning an Instrument with Private Guitar Tuition…
Learning an instrument is a rewarding experience! Whether you want to learn the guitar for fun, or begin your journey through graded exams I can help. I am an experienced professional guitarist and fully qualified/seasoned teacher – for more information about me check out the 'A Little About Roger' page.
All styles are accommodated and I can assist you through either the classical Trinity or ABRSM syllabuses or the more contemporary Rock School grades. Looking for Guitar Lessons Sutton Coldfield? Then look no further!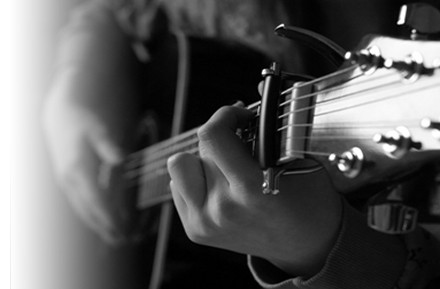 The Service, Costs, and Other Information…
Guitar Lessons include all learning materials. You can travel me at  my home in Curdworth or I can travel to you anywhere in the Sutton Coldfield, Coleshill & Tamworth areas.
Please check my 'Options & Pricing' page here for more details.
I always listen to my clients wishes and design my guitar lessons around your aspirations. Whether you want to learn jazz harmony,  achieve your grades or simply be able to play your favourite song, I can help you achieve your goals.
My students vary in age and ability, from age 7 to 60, from 'debut' grades to diploma standard. Just get in touch to see if I can help you achieve your guitar goals…!
What Style is Right for you?
When embarking on guitar lessons it can be difficult to know where to start; what type of instrument/equipment to buy (electric, steel strung acoustic, nylon strung classical?), whether to learn by ear, to learn to read music or to learn chord diagrams and tablature. It can be quite confusing, but broadly there are four routes:
1. Electric / Rock
If you fancy yourself as a Stevie Vai in the making then Rock guitar tuition is going to be for you. Here I would suggest purchasing an electric guitar and amplifier (ideally a dual channel amp with distortion and clean options, although a basic clean channel amp with separate distortion pedal will do the job too – don't worry I can guide you through this minefield!).
Lessons will initially focus on learning open chord shapes, bar chords and power chords before moving on to scales and riffs (I always encourage my students to learn scales with three notes to a string with alternate picking in order to be able to develop speed at a later date). Rock guitar lessons can be framed within the Rockschool grades (I can teach up to grade 8/diploma standard), where students learn set pieces and a selection of technical exercises for exams, or we can simply develop your technique through learning existing tracks from your favourite bands.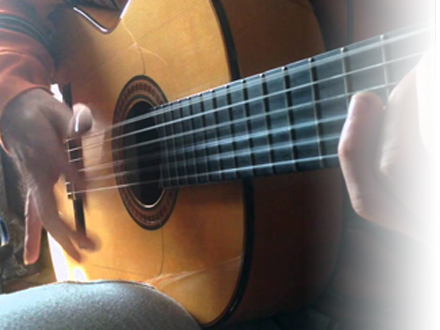 2. Classical / Flamenco
If you are looking to learn the guitar as a solo hobby (to help you unwind after work!) and prefer classical/easy listening music, then maybe classical guitar tuition is the route for you. Here you would simply require a nylon strung acoustic, a foot pedal, music stand and to grow your finger nails (seriously!).
Lessons will focus on correct fingering technique, flamenco techniques (such as rasguedos) and reading standard notation (including sight reading). Classical guitar lessons can be framed within an exam syllabus (such as Trinity, LCM or ABRSM) or we can simply learn pieces from a book for fun.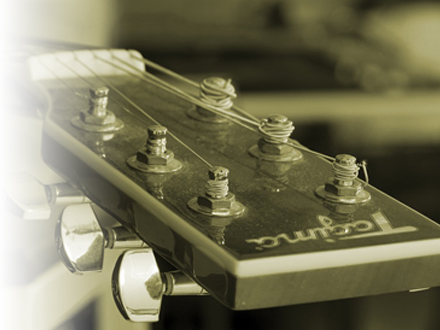 3. Acoustic / Songwriter
This can be a great way to get started! If you are looking to simply play a few songs or maybe even begin writing your own tunes then an acoustic guitar tuition option might be suitable for you. Most singer/songwriters (Ed Sheeran and the like) use steel-strung acoustic guitars, which are bigger and brighter than their classical counterparts. In lessons we will focus primarily on chords (looking at open voicings) and strumming patterns, maybe learning songs of your choice to exemplify these techniques. These lessons are light on theory and big on practical skills and can give fast results.
4. Jazz
Want to give a bit of Django a go? Perhaps the most difficult style to master as it fuses many of the techniques above and typically requires a certain level of ability before we begin. This is because we will be dealing with advanced concepts such as; syncopated rhythms and phrasing, chromatic and modal melodies, jazz harmony (not for the fainthearted!) and extended techniques such as sweep picking. Lessons will revolve around pieces (typically jazz standards), which will normally be notated (although we can learn by ear also).
Areas Covered:
Anywhere in the Sutton Coldfield, Coleshill and Tamworth areas including; Walmley, Wylde Green, Water Orton, Four Oaks, Curdworth, Little Aston, Streetly, Boldmere, Fazely, Glascote and Middleton.